Categories:
Lawn and Garden, Services, Agriculture
Curry's Nursery & Floral and Curry's RV Park
Go to Products and Services tab for more information on Curry's RV Park

Curry's Nursery and Floral was founded 25 years ago. Our start was a modest one as a produce stand that quickly grew into the bustling nursery and floral shop that exist today. The full service flower and gift shop carries a wide selection of fresh flowers, house plants, candles, silk flower arrangements, stuffed animals, balloons, and collectibles. We also provide lawn maintenance services, tree and shrub planting, and tree trimming. The nursery and garden center specializes in organic gardening and organic methods of pest and weed control.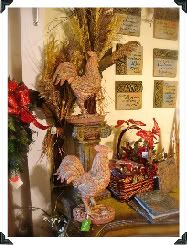 Categories:
Lawn and Garden, Services, Agriculture
Categories
Lawn and Garden
Business Type:
Landscaping Materials and Supplies
Business Type:
Lawn Care Products and Services
Business Type:
Nursery, Green House and Plants
Business Type:
Other
Business Type:
Pest Control
Business Type:
Tree Services
Delivery Available:
Yes
Services
Agriculture
Business Type:
Fertilizing and Pest Control
Locally Owned:
Yes
Organic Producer:
Yes